Company Profile
Founded in 1938
The STAX INDUSTRIES, LTD. since its founding has made every effort to obtain 'live' sound in music reproduction. The closer the music reproduction
to live sound, STAX believes, the very soul of music is understood the more and the true art of music maybe appreciated by all music lovers throughout the world. The products made by STAX are the outgrowth of many years experience by trial and error under this belief More new products of higher reliability and more exciting features are in the process of tests and completion.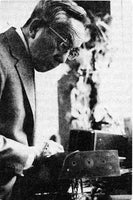 History
STAX was found in 1938. In 1959, STAX developed the world's first electrostatic headphone and introduced SR-1 in 1960.  Today STAX continues their tradition by offering the finest headphones for both professional and audiophile applications.  STAX refers to all its headphones as "EARSPEAKERS"; such Ultra-High Fidelity devices for reproducing music can only be compared with the best cost-no-object loudspeakers, not other headphones.  The term "EARSPEAKER" is, therefore, more descriptive of STAX's contribution to today's most advanced level of sonic transduction.