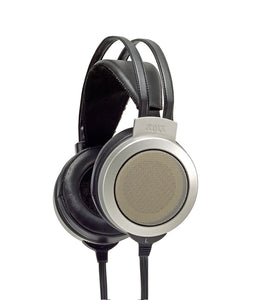 SR-007A Electrostatic Earspeaker
Regular price $2,205.00 Sale
The SR-007A is a part of STAX's collection of electrostatic devices. This earspeaker offers high-quality sound with its unique electrode structure. The thickly insulated resin housing ensures that there is no distortion and you can only hear the delicate details in your music.

The Pure Crystal Ohno Continuous Casting cable makes sure that your music retains its freshness. Last but not the least, the headset is also extremely comfortable with its adjustable lamb leather earpads.
AN EARSPEAKER LIKE NO OTHER

The innovative SR-007A is, like all other STAX headphones, an ultra-high fidelity device due to its electrostatic technology. However, unlike other STAX Earspeakers, it features a different design for its deep powerful sound and is hence, an Earspeaker like no other.
RICH POWERFUL SOUND
The unique electrode structure has a gold-plated outer edge. Unlike other Earspeakers, these electrodes do not have any holes, causing the diaphragm to vibrate more. This not only gives you a rich powerful sound but also lets you experience the delicate details in your music.
RIGID METAL HOUSING
To thoroughly eliminate distortion, STAX encases the sound element in a thick insulated resin case. This case is firmly attached to the SR-007A's body. This makes sure that only the diaphragm vibrates, giving you a sound that's almost magical.
EXTREME COMFORT
The SR-007A is made for long listening sessions. The soft lambskin earpads are adjustable so that they fit your head perfectly.
HIGH-QUALITY AUDIO
For a great sound, the SR-007A uses a Pure Crystal Ohno Continuous Casting (PC-OCC) cable. This 2.5m (8.2 feet) cable has a low capacity and wide format which ensures that you only get high-quality audio when you plug it in.
Specifications of SR-007A Electrostatic Earspeakers:
Type: Push-pull electrostatic open-air type headphone
Frequency response: 6 to 41,000 Hz
Impedance: 170 KΩ (at f = 10 KHz)
Capacitance: 94pF (including cable)
Sensitivity: 100 dB / 100 V r.m.s. at f = 1 KHz
Bias voltage: 580 V / DC
Left & Right Channel identifications: 
Left (L) and Right (R) indicators are provided at the cable en trance points on the Earspeakers.
The left channel cable is marked with a solid Line.
The right channel is marked with a dotted Line.
Ear pads : Real leather (Lamb) used on a part coming into contact with the skin. High-quality leather used for the surrounding part.
Cable: 2.5m, PC-OCC, wide, low capacitance cable
Weight : 365 g (Body) , 512g (Including cable)
Operating temperature range: 0 to 35 
Humidity range for use: Less than 90% (without condensation)